Nutrient mobility is our specialty.
On the surface, all nutrition programs might appear similar — but only NutriSync contains a proprietary transport technology for the most effective nutrient mobility in the plant. Whether it's tree nuts, citrus groves, fruits or veggies, the carbohydrate component in NutriSync allows nutrients to get to the growing points where they are needed most.
Are you ready to mobilize your nutrition program?
Time tested. Field trial approved.
Hundreds of field trials have shown NutriSync products drive increased yield and improved quality and marketability in almost any specialty crop.
The nutrient mobility technology is NutriSync is unlike anything else on the market — utilizing the the entire lipid layer of cell membranes for the most efficient nutrient uptake.
Mobilize essential nutrients to areas of peak demand.

Utilize key nutrients at critical growth stages.

Enhance plant metabolism and transport of nutrients.

Increase the integrity of plant cells.

Increase overall plant growth and vigor.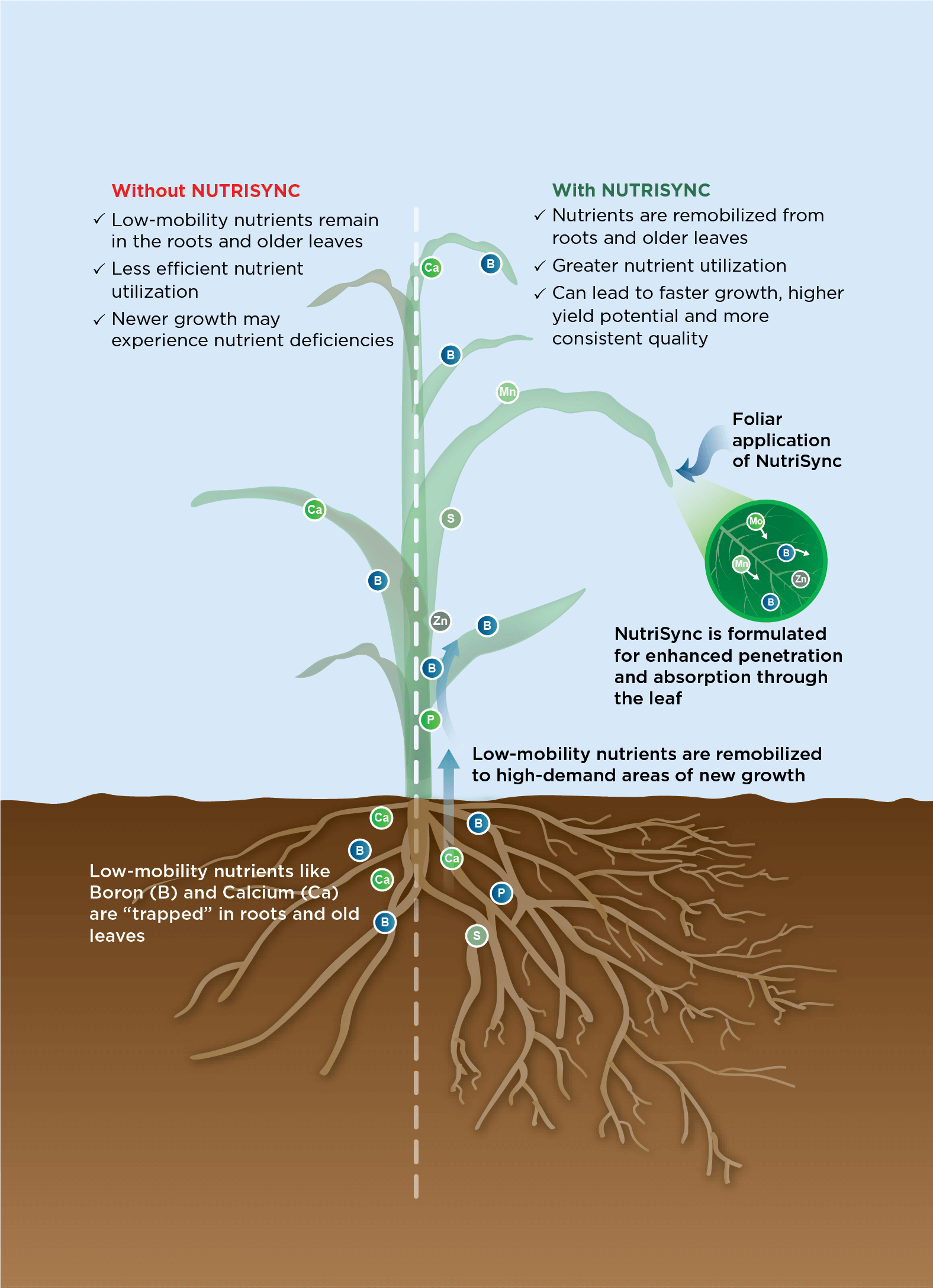 See NutriSync products in action.
No matter the crop, there's a NutriSync product available to fit the unique needs of almost any production system. See the NutriSync Difference for yourself.
NutriSync is nutrition. Delivered.
Whether you need a pre-blended nutrition program, or you're targeting a specific nutrient, NutriSync has you covered.
Need help? Reach your Nutrien Ag Solutions to design a tailored program for your operation.
Go ahead and click the NutriSync family of products below to see specific data sets. We've got nothing to hide.
Designed to enhance your current micronutrient program.
Well-rounded, robust products designed to provide multiple nutrient solutions.
Targeted Nutrition to Fill Your Crops' Needs
What do growers love about NutriSync products?
We're glad you asked. Find out what thousands of growers already know—NutriSync products are essential to their nutrition program.
"From our 2018 Innovative plot book, Nutrisync M had a 5.4 bushel advantage on the untreated check over 8 years and 126 trials in field corn. Nutrisync D had a 3.8 bushel advantage on the untreated check over 9 years and 115 trials. I am a firm believer in the Nutrisync technology and the yield advantage it gives growers, the data speaks for itself. I would not sell a product that I do not believe in or would not use on my own farm. Nutrisync technology is part of the equation."
"NutriSync M & NutriSync 3D have been staples in our early-post corn and soybean programs here in Minnesota, and for good reason – the economics and consistent bushels. We know that we can't always rely on the crop to try to mine nutrients from the soil, especially when they are unavailable. Our NutriSync line-up has been easy to turn to so we can maintain metabolic processes, supplement the crop, minimize stress, and aid in deficiency. It's all about maximizing that crops potential with our best foot forward!"
"NutriSync MicroPak has the nutrients young crops need to grow roots and it does just that - the crop can hang on longer in times of stress because we know the nutrients are getting to where they are needed most with NutriSync products. It just yields for my growers."
"You can count on NutriSync to get the nutritionals you're applying into the plant and to the part of the plant where it's needed to maximize yield. Compared to competitors, NutriSync technology is more effective. It gets nutrients through a plant lot more efficiently than other foliar products."
"Nutrisync products have been instrumental in the pursuit of pushing yields higher and maximizing return on investment. Many of our growers love the low application rate and key micronutrients like boron, manganese, and zinc; they get in Nutrisync M on corn, wheat, and grain sorghum."