Next level nutrition is here.
Most nutrition programs kind of look the same—until they don't. If you take a closer look at NutriSync products, you'll see a proprietary nutrient transport technology like nothing else on the market. NutriSync brand micronutrients contain a naturally occurring carbohydrate that moves nutrients through the vascular tissue to the growing points where they are needed most.
Are you ready to get the most out of your nutrition program?
Time tested. Field trial approved.
Hundreds of field trials have shown time and time again NutriSync products can help drive increased yield and improve quality and marketability in almost any crop.
NutriSync products are unique compared to others in the market because nutrient uptake is driven without expending valuable energy. NutriSync technology utilizes the entire lipid layer of cell membranes for nutrient uptake to give you an undeniable advantage.
Mobilize essential nutrients to areas of peak demand.

Utilize key nutrients at critical growth stages.

Enhance plant metabolism and transport of nutrients.

Increase the integrity of plant cells.

Increase overall plant growth and vigor.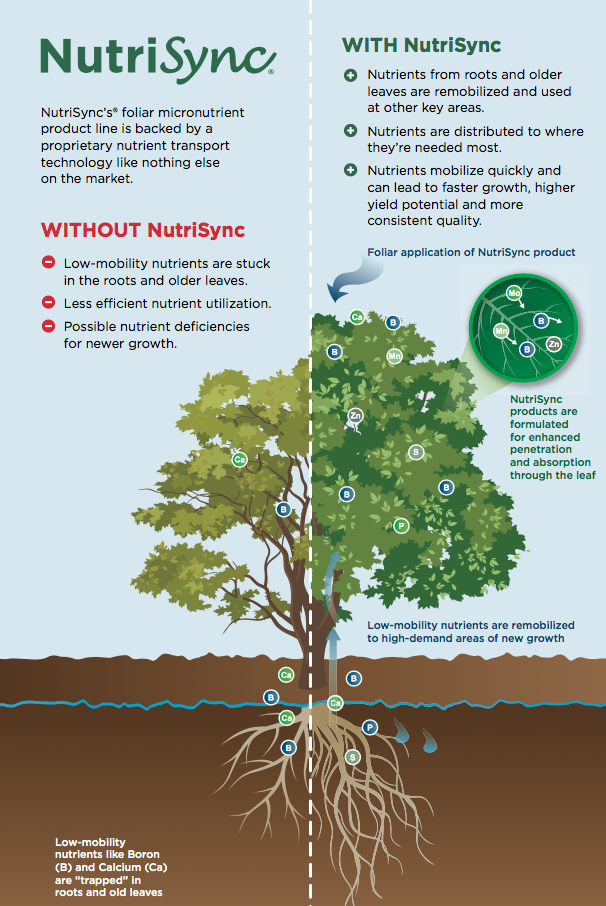 NutriSync is nutrition.
Delivered.
For your convenience, the NutriSync family of products is also available as specific element micronutrient formulations. This means your Nutrien Ag Solutions advisor can work with you to identify the most beneficial blend of NutriSync products for your crops.
Go ahead and click the NutriSync family of products below to see specific data sets. We got nothing to hide.
Designed to enhance your current micronutrient program.
Well-rounded, robust products designed to provide multiple nutrient solutions.
Targeted Nutrition to Fill Your Crops' Needs
What do growers love about NutriSync products?
We're glad you asked. Find out what thousands of growers already know—NutriSync products are essential pieces to their nutrition program.
"NutriSync MicroPak has the nutrients young crops need to grow roots and it does just that – the crop can hang on longer in times of stress because we know the nutrients are getting to where they are needed most with NutriSync products. It just yields for my growers."
"In our treenuts we're always concerned about getting nutrition from source to sink. It's easy to get nutrition physically on the plant but when we use something like NutriSync Zinc or NutriSync D with another foliar nutrient we know we get nutrition into the cell like we need it to."
"With NutriSync MicroPak we know we're getting the most out of our micros in there, it fits in a lot of different ways with our programs to get us into production faster in a crop like apples or overcome key stress periods in our annual crops."